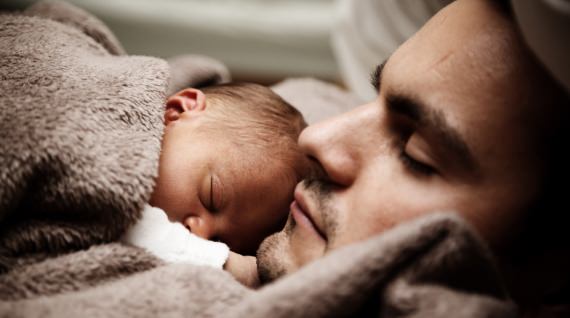 Ever had that helpless feeling whenever your child is crying out in pain due to teething?
Feeling exhausted due to the sleepless nights that teething can cause?
Tried just about every natural teething remedy to no avail?
Then join the club!
As a mother that runs her online business from home, that has two young children (a 3-year old son called Jackson, and a 9-month old girl called Ruby), and is also responsible for the running of the home while her husband goes off to work every day, I know exactly where you are coming from when it comes to teething!
As parents we never want to see our babies in pain and that helpless feeling that we get when they are suffering with teething pains, is a terrible one that leaves us full of guilt at not being able to help them.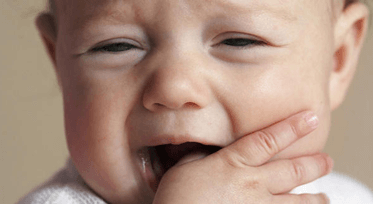 I will always remember my first experiences of these feelings when I had Jackson, my first child three years ago. I was a young, excited, confident and overly protective first-time mother that was just a little too naïve to be honest, I thought I could handle anything that parenthood would throw at me.
However, teething proved to be one obstacle that I just could not seem to conquer! I tried teething rings, home remedies and all of the different little tricks that my friends and family would suggest but nothing worked sufficiently.
On top of this, I discovered that I was pregnant with Ruby when Jackson was 18 months old and still in the middle of his teething woes!
I was tired, frustrated, and devastated that I could not do anything to help him through his pain. You can imagine I was extremely grateful to eventually get him through that stage in his life!
However, by the time Jackson had finished with his teething I knew that it would not be long before Ruby would have to go through it soon as well!
This time I was going to be prepared for what was coming and spent months looking at products, speaking to experienced mothers, grandmothers, and health professionals as well as checking out a number of authoritative blogs on the subject.
It was at a number of the latter where I learned about and became intrigued with a range of homeopathic Baltic Amber products that are specifically designed to help soothe the teething pains of young children. Additionally, these products also have a wide range of other benefits too…even for us adults!
The range of products includes polished amber necklaces and bracelets, and raw amber necklaces and bracelets each available in children or adult sizes.
A little about Amber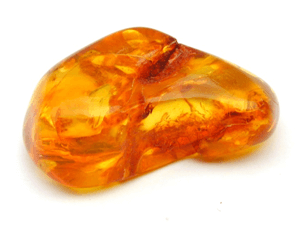 After a bit of research, I discovered that the beads on the Baltic Amber necklaces and bracelets are all made from Baltic amber, an organic fossil resin that is produced in the Baltic region and the Baltic Sea.
I actually found out that Baltic amber has been used for hundreds of years as an alternative medicine and traditional healing method that has been passed from generation to generation.
It has many benefits from being a great natural pain reliever, stress reliever, and is great for improving our immune systems. There are literally hundreds of other benefits as well but I thought we would concentrate on the ones that are more relevant to our little darlings and the teething pains that they are feeling.
When this resin is in contact with the skin and it becomes the same temperature, it releases succinic acid which gets absorbed by the skin and into the blood stream. This amino acid is prominently found on the external layer of an amber stone which is why it is perfect to be worn as a necklace or bracelet that is close to the skin.
As with most things, I was still a little skeptical about whether or not Baltic Amber would be the answer to the inevitable teething pains that were coming Ruby's way. However, after my research and efforts these products really seemed to have the most potential, so I decided to give the necklace a try.
So what are the health benefits of Amber for Children?
• Provide natural pain relief (for teething and headaches etc)
• Boosts the child's immune system
• Actively reduces any inflammation (particularly in the gums)
• Leads to a better night's sleep for both child and family
• Provide children with a natural calming effect
• Speeds up the child's natural healing process
• Acts as a natural energizer
There are even benefits that adults can have too…and no, not just from being able to get a better night sleep!
Amber and the succinic acid within:
• Is an excellent and powerful natural cleanser and healer of the body
• Is an alleviator of stress and anxiety
• Is a fantastic natural antibiotic
• Is a natural source of calming and centering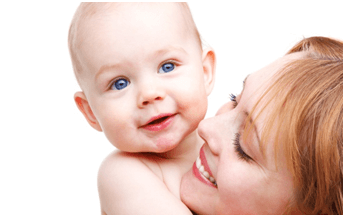 On top of all of these benefits, the Baltic Amber range of products look very cool too so you can wear them out with pride!
With such an impressive list of benefits and a vast amount of positive reviews, I was eager to test out the Baltic amber necklace that I had purchased and simply had to wait until the fateful time when Ruby began teething.
Before I explain how it went with the Baltic Amber necklace, let me just ease a few of your doubts and fears that might be entering your minds about these products.
Firstly, understandably many of you will be worried about the possibility of a child choking on one of their bracelets if they were to get caught on something that could lead to them being strangled.
This is very unlikely to happen as they are produced with a breakaway clasp that will break under any sustained pressure. Additionally, they are meant to be worn very close to the neck, so the chances of the necklace actually catching on anything are very slim.
I personally do not let Ruby wear his around his neck when sleeping (just to be on the safe side) and instead wrap it around his ankle.
Another common fear is whether or not the beads can be chewed and also whether there is a chance of them falling off and being swallowed. Well,
while they are not really 'meant' to be chewed there is nothing on them that will do any harm to your children. As for the beads falling off, they are triple-tied and each tested to ensure that they are practically impossible for a child to break them off.
Additionally, because they are worn very close to the neck, a young child will forget that it is even there after a short time. Still, like me, you will probably be watching your kids and making sure that they are not playing with them even though there is not much chance of a bead breaking off.
My Own Experience with the Baltic Amber Necklace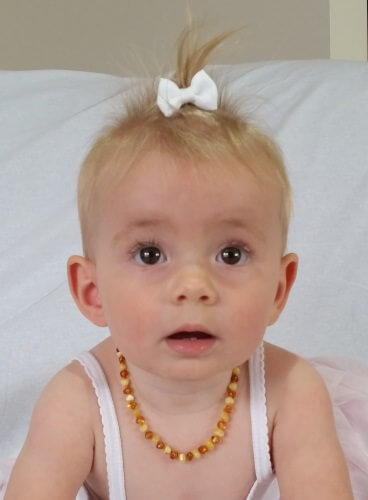 As soon as I noticed that Ruby was starting to teeth and feel pain I put the Baltic amber necklace on her and made sure that it was not too loose or too tight. I consoled her and just waited to see whether it would help her any.
After roughly an hour she started to calm down and was soon smiling at me in the way that I adore!
I do not want to overplay the results as Ruby was certainly still in some pain from the teething but it was far less than I previously witnessed with my first child Jackson.
This improvement was confirmed one night after I forgot to put the necklace back on after bathing Ruby. That night her crying was far more intense than usual and I felt extremely guilty for letting it slip my mind that she was no longer wearing the necklace.
It did prove however, that the Baltic Amber necklace was doing what is claimed by providing Ruby with a substantial amount of pain relief. We are all now able to get a better night's sleep but more importantly have seen our little daughter enduring far less pain. In fact, we have already ordered a couple of adult necklaces to see if they can help us with the other stresses of life!