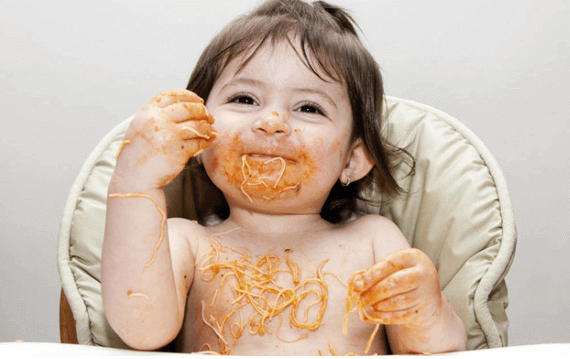 Are you tired of having to clean up the mess your toddlers make at mealtimes?
Or are you looking for a way to make mealtimes more exciting and fun for your little cherubs?
So was I ... I tried all the latest baby feeding gadgets, until a friend put me onto a simple yet effective product for baby mealtimes!
Like many of you, I really did not look forward to meal times with my two young kids.... first having to prepare all the food, then helping to feed them... and then embarking on the monumental task cleaning the kids up... the kitchen up... and of course the table that the kids were eating at!
Young children seem to get more food down them than they actually manage to get in their mouths, often leaving them looking like food is supposed to be worn rather than eaten!
The Problem with Cloth Bibs.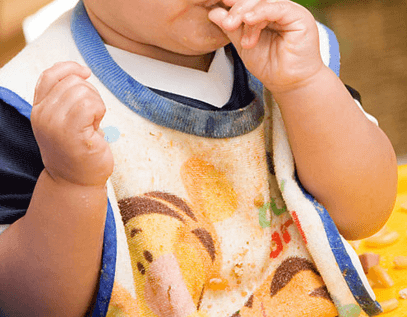 Of course, there are bibs out there that can help minimize that mess a little bit but even they require regular cleaning.
Cleaning cloth bib is not easy either as they are of course made of cloth, which as you know, is difficult to clean and will always start to fade and look ugly anyway.
Then, because I have two young toddlers, I need to own quite a few of these bibs because we eat three meals a day and need to make up for the bibs that are already in the wash.
Besides, these bibs hardly catch all of the wayward food do they? It still drips down them and onto their clothes anyway, which kind of defeats the purpose of owning them in the first place!
Thank goodness there is an Easier Way !
Thanks to a friend of mine however, I found out about a simple product that really helps to minimize the amount of cleaning up I do each mealtime... and making my life easier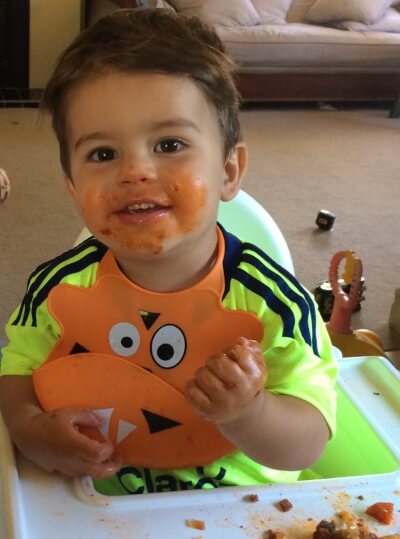 I took the kids to the local day care center, as I had an emergency meeting to attend, and got to talking to another mother after she saw a food stain on one of my kids t-shirt. This was embarrassing to say the least... because I literally had to do a rush clean up job and shoot straight out of the door after taking the phone call about the appointment.
It was here that I first learned about a great product called the 'ILuvBaby Silicone Bibs', after she told me that not only do they catch almost all excess food in the integrated crumb catcher, but they are also extremely easy to clean!
She told me that because they are made of silicone, they literally need nothing more than a wipe or can be placed in the dishwasher for a quick spin. I had to run to the appointment, but made a point of having a look online for these silicone bibs when I got home later that day.
True to her word, I found the bibs and they not only looked extremely functional but they also looked great and I was sure that my kids would love wearing them. I did some research and discovered that the silicone is of medical grade which is BPA free and contains no absolutely no Lead or Phthalates, while I also discovered that there were nine different animal designs to choose from.
The fact that they have an adjustable clasp and neck strap is another advantage that really impressed me as it means that the bib can literally grow with your child. You know how children can easily get attached to things!
The Kids love them... and so do I
So I ordered a couple of them with their Free + Shipping offer, to try them out and I have to say that I am incredibly impressed!
There is now far less mess to clean up (on my kids clothes anyway) due to the crumb catcher, I no longer have to spend loads of time cleaning the bibs as a quick rub down and they are ready for the next mealtime, and my kids absolutely love the designs.

My two get excited at meal times now, simply because they are going to wear their favorite animal print silicone bibs.
I have now placed an order for a couple more, one for the house, one for for the nappy bag, and one for the pram, so I'm never caught short... plus it gives them a choice of designs to wear.
Here are what I feel to be the key benefits of the ILuvBaby Silicone Bibs:
- Remarkably Easy to Clean
- Designed with a crumb catching feature
- Re-usable
- A lightweight design that is both soft and light
- Easily Adjustable (Will fit most infant sized necks from the age of six months and up)
- Made from medical grade BPA free silicone
- Wide variety of animal prints to choose from
- Has been designed to fold away easily for simple storage
The ILuvBaby Silicone Bibs are now the baby product that I recommend to all my friends and family that have young children... and the ones that have gone ahead and purchased some have thanked me for it!
---