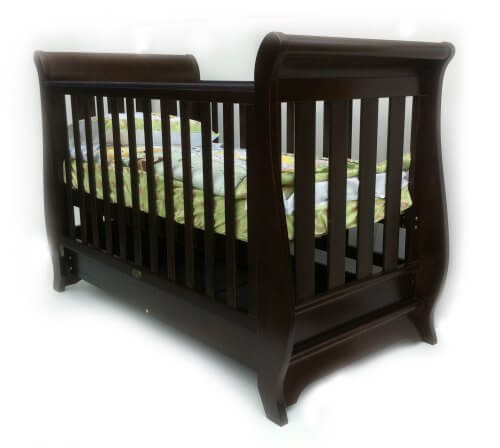 Sleigh cots are valuable additions to your nursery. Not only do they provide baby with a safe and comfortable place to sleep and play - they lend an elegant ambiance to baby's room. Remember that your nursery will be the site of many photo sessions with baby. But how do you choose the best sleigh cot for your little one?
Tips for Choosing the Best Sleigh Cot
1.Safety. Of course, safety should always come first when selecting the best cot for your baby. The mattress should fit it snugly, with just ample space around to prevent baby from trapping his fingers. To ensure safety, look for the Australian Safety Standard certification for household cots issued on December 3, 2005. Some cots made before the issuance of this mandatory regulation were found to have parts that can be hazardous to babies. It will also help to check out Product Safety Recalls Australia to make sure that the sleigh cot of your choice is not included in their list.
2.Comfort. You should also think of you and your baby's comfort when buying a cot. For example, if you are a petite mum or have a large belly, consider a drop side cot with an adjustable mattress so you can have easy access to your baby at all times.
3.Durability. Look for cots that are made from hardwood like walnut so that you get real value for every dollar spent. A solid wood cot bed can last not just for a few years – sometimes, it can last a lifetime.
4.Beauty. Sure, safety and durability are of utmost importance when choosing a sleigh cot, but one that is beautiful can make a whole lot of difference too. Remember that this cradle for baby will be immortalized in photographs and videos. When your baby is all grown up, he'd surely take pride in seeing his baby pictures.
5.Flexibility. Why buy a cradle for baby that he can easily outgrow when you can get one that can be transformed into a bed or a sofa? It's true that cots of this type can be costly, but considering that you can repurpose it over and over, and possibly hand them down from one generation to the next, then the hefty price tag becomes inconsequential.
6.Space requirement. One of the things that some mums overlook is the size of the cot in relation to the size of the room it will be placed. It can be very awkward and uncomfortable to move inside a room dominated by a huge, convertible cot.
7.Storage. If you're a hands-on mum like me, you probably know how inconvenient and messy it can be when you don't have a neat place to store baby's wooden toy rattle,pillows and other small items. We have solved that problem when my husband bought a 3 in 1 sleigh cot with a slide out storage drawer at the bottom.
Would you like to learn more about this topic? Then, please feel free to write in the comments box below. We'll be glad to give you all the information that you need.